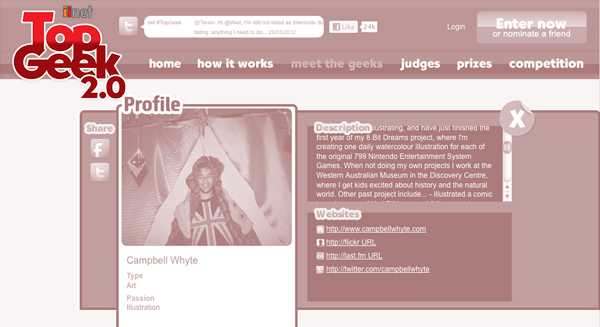 I've entered a competition to be crowned the geekiest geek in all of Australia. First however, I totally need you to vote for me. There's like, only a few days left in the competition, so just click here and vote and then I will love you forever. If you've been enjoying my 8 Bit Dreams series, or any of my other work, this is your chance to totally show it. Just a little click. Then harass your friends to vote too.
The winner will get an all expenses paid trip to a geeky conference of their choice in the US of A. Which would be a pretty awesome thing to do. I could go over and draw things for people over there! You want me in your country drawing things? I CAN DO THAT!
If you've not convinced of my geekiness, I have the following credentials which I'm confident will impress.
Campbell Whyte was born in 1984 and has been making things ever since. He is a compulsive illustrator and information addict, and has combined these two loves in many imaginative ways over the years. My projects often involve combining the form of contemporary pop culture with autobiographical content.
I am currently working on a graphic novel that I am writing and illustrating, and have just finished the first year of my 8 Bit Dreams project, where I'm creating one daily watercolour illustration for each of the original 799 Nintendo Entertainment System Games.