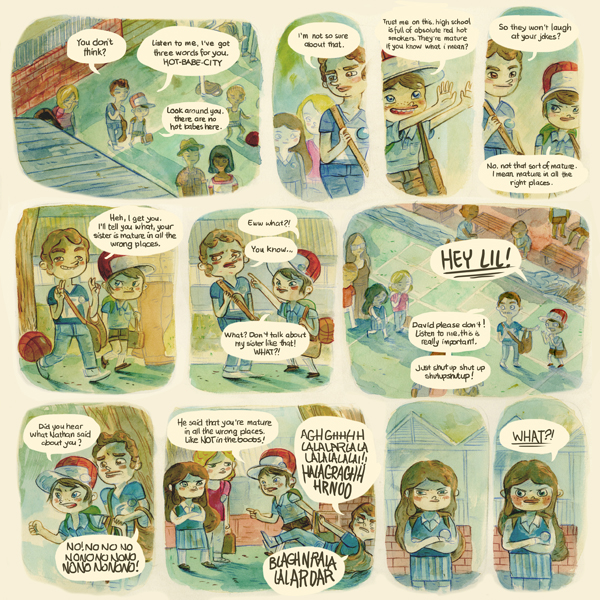 2012 is a really exciting year for me, I'm thrilled to announce that I've been given the opportunity to work on my graphic novel. Over the past few years, I've been writing, researching and illustrating many components of the work, but have never really had the studio time needed to commit to actually pulling it all together.
I can be a terrible procrastinator, not so much twiddling my thumbs and watching tv, but rather whipping up small, easy projects and side illustrations at the expense of larger, more difficult  projects. And because these smaller projects often involve actual payment, that can be used to buy groceries and pay rent, it's hard to turn them down.
I've been lucky enough to be the recipient of two grants this year. One is a Department of Culture and the Arts grant that is for time to spend in the studio, time to illustrate my script. That means I'll be availed of the guilt that sometimes perches on my shoulder when I sit down to work on "non paying" projects. I can actually pay myself an hourly wage, and although it is tiny, and I'll still be doing the majority of the work without any pay, it is still something to be treasured.
My other grant is from the fantastic mentoring program JUMP, which is funded by the Australia Council for the Arts. The JUMP program teams up emerging Australian artists with super talented, successful established artists in the same field. My project was lucky enough to be approved, and this year I'm lucky enough to be working with graphic novelist Nicki Greenberg.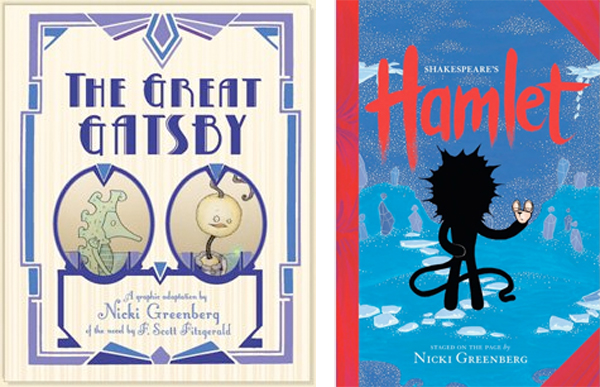 Nicki is best known for her whimsical adaptation of The Great Gatsby and her recent, lushly psychadelic production of Hamlet. She'll be offering her sagely advice and assistance on my book as I work on it over the year. I'm super excited about getting the opportunity to be working with her.
This week I'll be attending the JUMP induction workshop where I'll get to meet all the other mentees and learn about being mentored and how to receive mentorship and what to expect from your mentor and all other mentoring advice and tips and things. I'm sure it's going to be a ton of fun. PLUS, they're taking us out for dinner, which I always appreciate.
The graphic novel is called HOME TIME and follows the adventures of a group of primary school friends. It's a combination of a bunch of stuff that has interested me from when I was little, and then a whole raft of questions and problems that have plagued me during my "being bigger" period. I'll post more details, works in progress and information throughout the year, as it's going on.
I'm aiming to finish the project this year, and find a publisher for it. I know these are hugely ambitious aims. There are plenty of wonderful and talented people working in the field who struggle for years to get work published, who have better track records than me, who've been at it longer than me. However, I guess now is the time to be hugely ambitious, and work towards my goals without embarassment.  Sometimes we can feel foolish admitting what we want, but I've come to the realisation that I already look foolish, and so there's nothing really to worry about now.
So then what does this mean for my other projects? Mainly 8 Bit Dreams…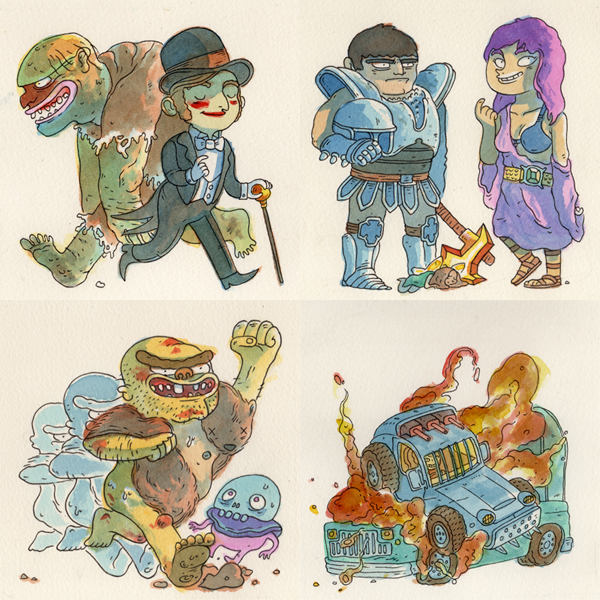 This illustrations project has pretty much dominated my last 12 months. It began as an offhand comment on twitter, which slowly came to consume the majority of my creative output. I've thoroughly enjoyed working on it, but with these new opportunities coming up, I need to take a break from it to focus on my larger goals. There's simply no way I'll be able to continue my output of 8 Bit Dreams and also develop a graphic novel at the same time.
I'd like to thank all of those people who have been following the project on my site, and those who have support it through buying illustratations, or commissioning works. It's made it a lot easier to justify the time spent on it when sales come through.
I'll be putting the project on hiatus from the 28th of February. This will mark the one year anniversary of the series, which seems like a nice time to end the "season" of illustration. Just think of it as a tv show, it'll be back next year, but now it's time for a break.
Once the year is up I'll be looking to exhibit the works in a gallery somewhere. There are a few spaces in the States that I'd love to work with, and will probably contact them to try to line something up. If anyone can recommend any suitable galleries that might be interested, I'd love to know. The collected illustrations will look great wallpapering a gallery.