Posts Tagged 'pokemon'
recent exhibitions

recent projects
For the upcoming Fangamer X Attractmode exhibition.

Hi beautiful peoples,
Christmas is fast approaching, and I'm assuming you're going to be wanting to shower a loved one in some delicious geeky goodness. Or perhaps, you yourself crave some showering. Well, I'm here to help.
Following is a wrap up of my current purchasables that can be shipped to you. (note, not by ship, it'll probably arrive by plane) All illustrations and prints are printed on standard sized paper, which means they can be mounted in inexpensive frames from IKEA. I really don't like the idea of paying more for the frame than you did for the print, but if you want to last out, who am I to stop you?
For this project, I aimed to do one spot illustration a day, working my way through the original 799 Nintendo Entertainment System games. I made it through one years worth of pictures, before receiving an arts grant to work on my graphic novel, which meant I had to put the project on hold. A lot of the original illustrations are still available, but you can also commission me to do an illustration in that style and format based on anything you want. It doesn't have to be a NES game, it can be from any console, any tv show, any book, anything.
Available to purchase here.
I did this illustration for the wonderful kickstarted zine Bits in Multiples of 8, which was pulled together by Jimmy Giegerich. The whole thing is full of fantastic artworks, and I'm really happy to have been a part of it.
Available to purchase here.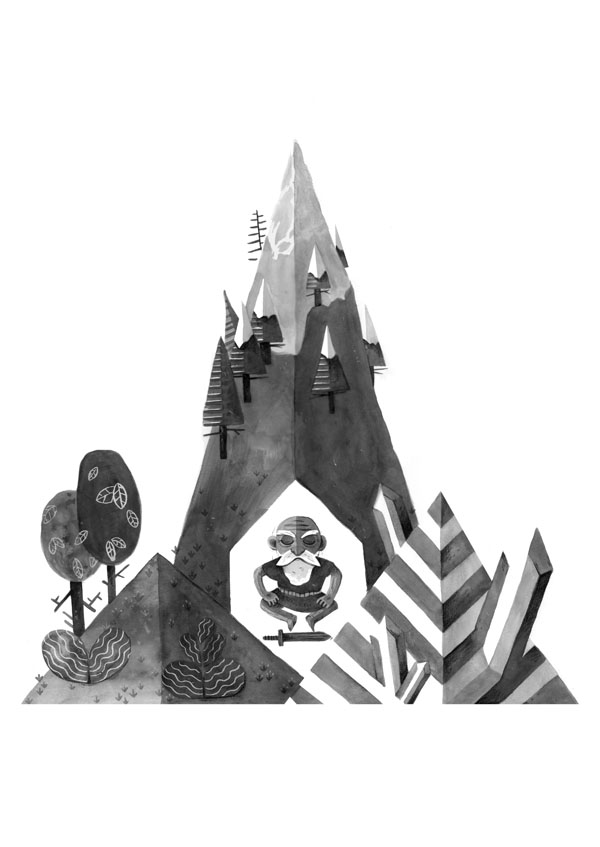 This illustration was for the epic Pokemon: Battle Royale exhibition that was held at the Light Grey Art Lab. Each artist was assigned one of the original Pokemon to depict, and I was granted Rattata. This picture displays the top percentile Rattata in his underground home, having returned from a long tournament of battles.
Available to purchase here.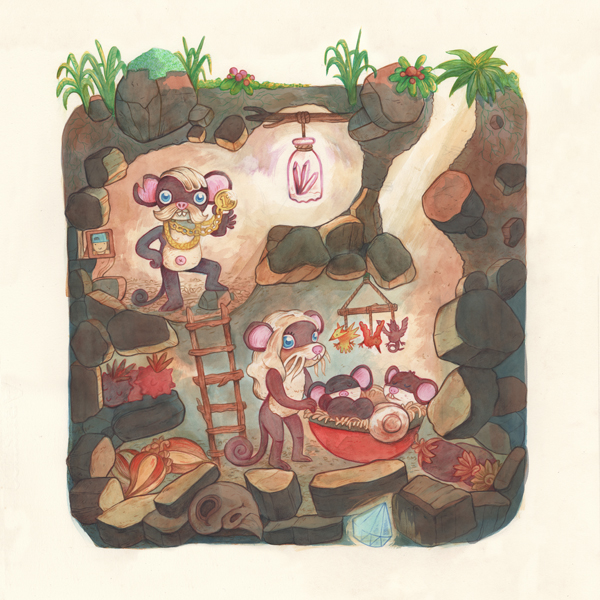 Zelda Isometrics
These were a series of Zelda themed illustrations I did last year. They feature a selection of monsters from the overworld in their natural habitat. Some of the original framed illustrations are available to buy, as are prints.
Available to purchase here.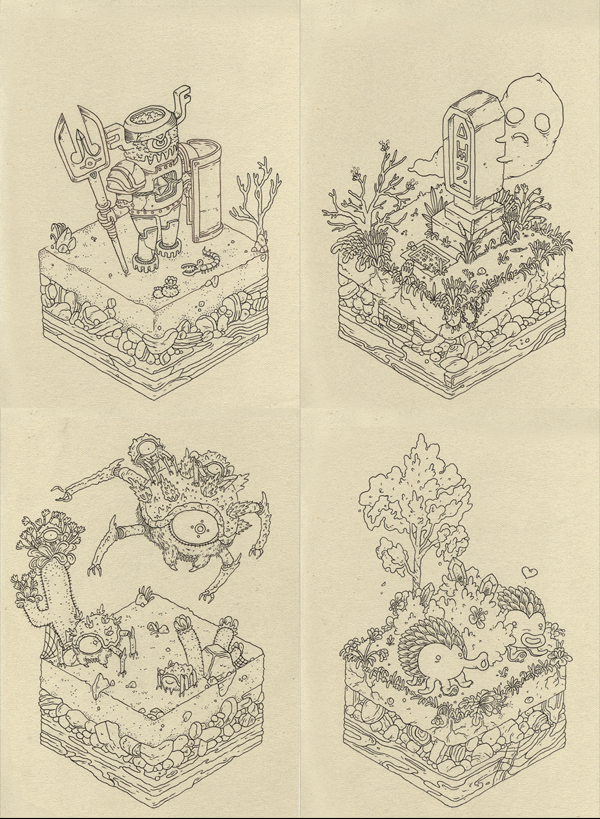 This illustration was completed for the first exhibition at Bottleneck Gallery in NYC earlier this year. It depicts my favorite little posse from Game of Thrones after their flee their home and go camping for a while,
Available to purchase here.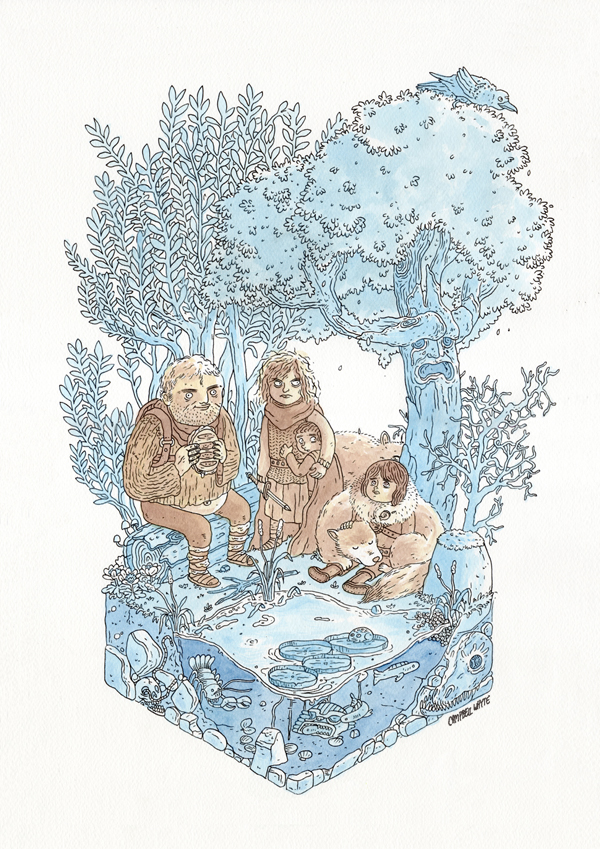 One of my favorite games, with one of the trickiest boss battles of all time, weeds!
This illustration was part of the Fangamer Versus AttractMode exhibition that coincided with this years PAX.
Available to purchase here.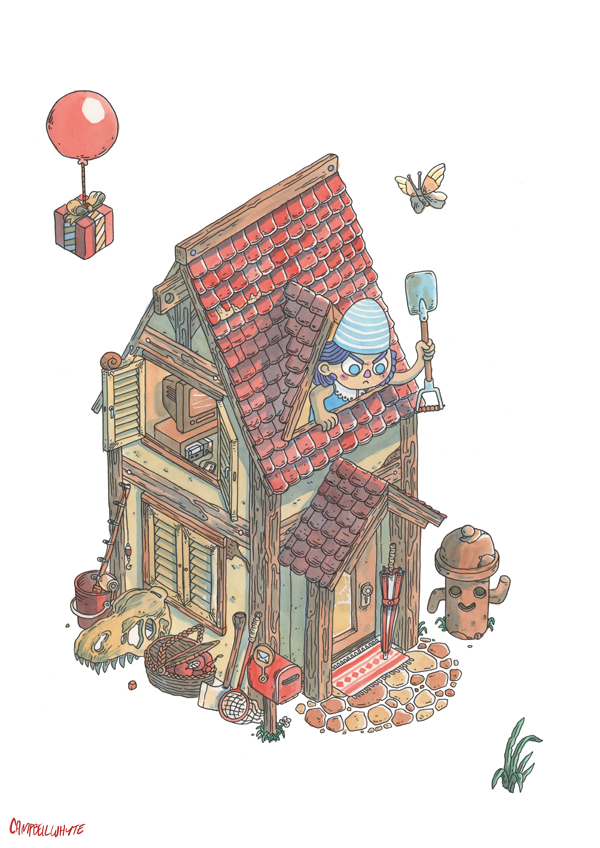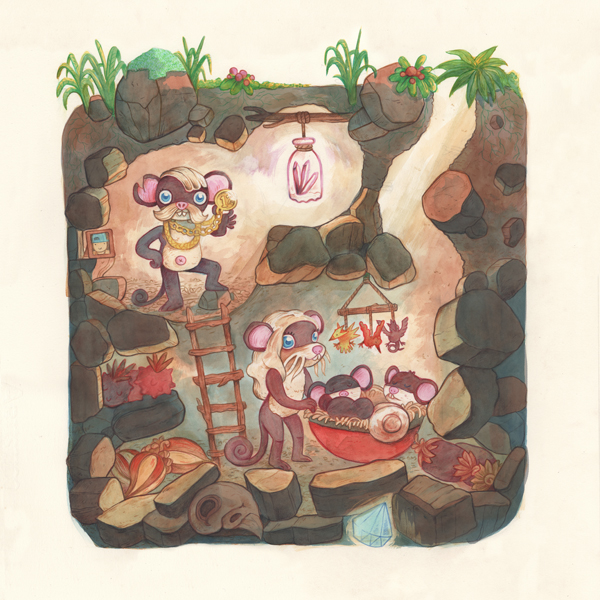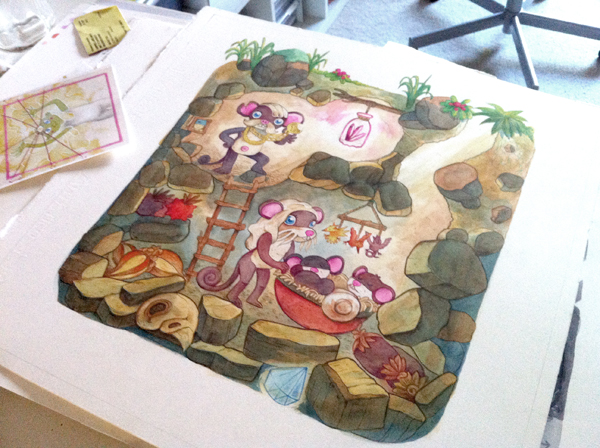 Pokemon Battle Royale has opened in the most spectacular fashion, with 151 artists throwing their skills at 151 Pokemon. It's fantastic to see the diversity of interpretations of Pokemon. Light Grey Art Lab has opened up their print shop, where you can purchase copies of my Rattata illustration that was done especially for the show. The prints will only be available until the 11th of May, so get in while you can.
Prints are archival quality and are a steal at only $40. You can pick one up here.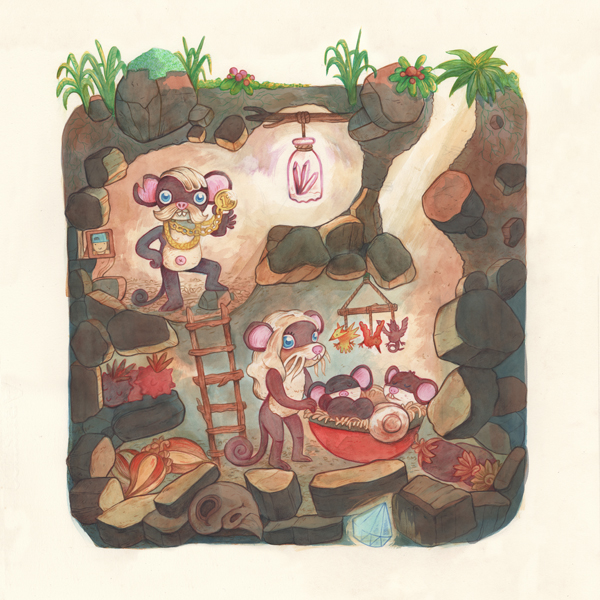 It's finished, my illustration for the upcoming Pokemon Battle Royale exhibition at Light Grey Art Lab. 151 artists each illustrating one of the original 151 Pokemon. I was assigned Rattata for the show, who's basically a purple rat, nothing particularly wild in his design, so I used him as a foundation to do an illustration of a burrow. Apparently Rattata's breed like, well, rats, so we've also got a little brood on the go. It's all about family Yo. I also had the idea of sculpting the burrow in the shape of a Rattata silhouette, but it didn't turn out as clear as I had initially envisioned. I think it's probably mainly due to the berries I stuffed it's legs with. Maybe I should have left them out.
Lots of the other artists involved in the exhibition are sharing their work on twitter, so check them out. All works will be available when the show goes live on the 20th of April, they're all prints and are priced at the super steal of $40. I hope they compile them all in to a book, that'd be amazing.
You can see some of my early sketches for the piece in my previous post here.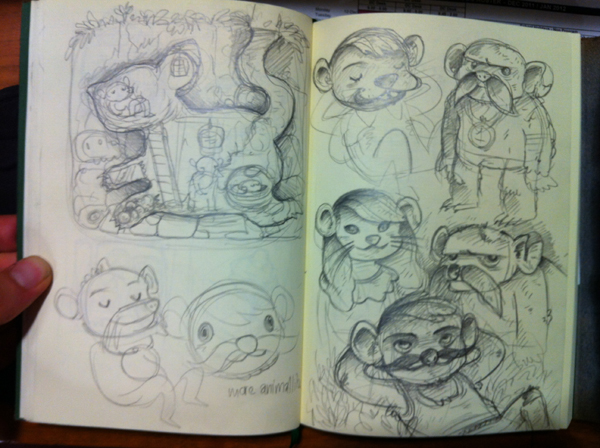 I'm putting together a piece for the gigantic upcoming Pokemon Battle Royale exhibition that is being organised by the Light Grey Art Lab. It's an amazingly huge project where 151 artists are each responsible for drawing one of the original 151 Pokemon. I'm really excited to be in the show because I'm a bit of an old school Pokemon nerd, but also because this show will feature some of my favorite contemporary illustrators.
The Pokemon that chose me (that's right, it was kind of the other way around to how Pokemon usually works) was Rattata. He's…. a rat… but I'll do my best with my awesome rat Pokemon. I WON'T LET YOU DOWN!
I'll post some more preview shots over the next couple of days.
The show opens on the 20th of April and will have an online gallery that you can check out and purchase works from. All works will be prints, and available from the rock bottom price of only $40. That's pretty kick ass really. If you have a favorite Pokemon, there is absolutely no excuse not to buy it.