Posts Tagged 'drawing'
recent exhibitions

recent projects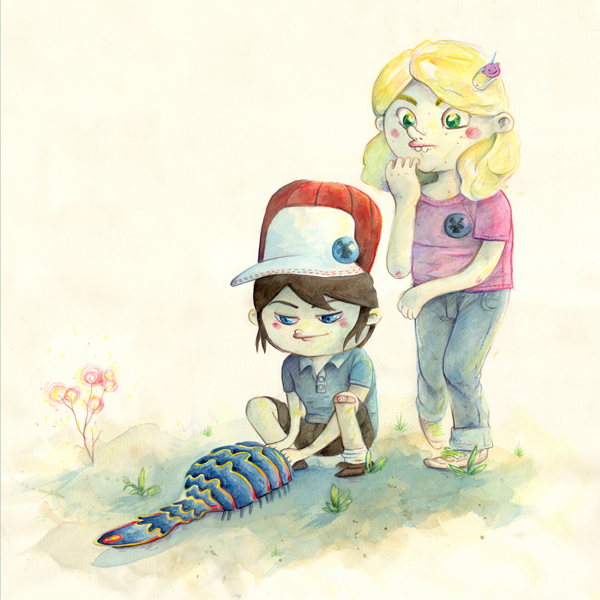 Last year I was fortunate enough to be awarded the Young People and the Arts Fellowship from the Department of Culture and the Arts. This Fellowship has been assisting with the development of my arts practice and a major graphic novel work that I am in the process of researching.
Upon receiving the great news I made this card to send out to all the people who helped me with my application by providing feedback, letters of support and mentorship offers. Thanks to all who were involved and are now contributing their time and energies to me.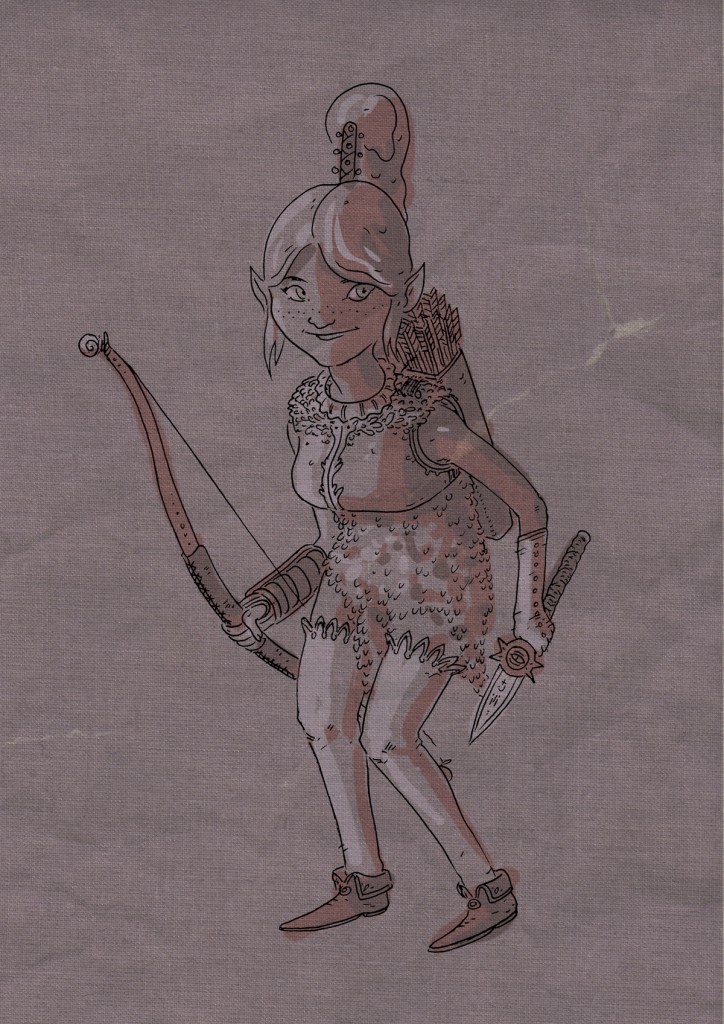 These are two characters that feature in our regular (?) Dungeons and Dragons games. Lady Antoinette Estella Durack and Crabs Key Dinfer.
Lady Durack is played by James Pontifex and has been completely useless so far in this campaign (feel free to seek conformation from our recorded sessions). Her highlight so far has undoubtedly been extinguishing a camp fire with a water bladder attached to an arrow during a night time raid. The merit of this action was fiercely debated by the party for at least ten minutes before it was performed. She is sitting out the current adventure as James is now Dungeon mastering.
Crabs on the other hand is probably our most useful party member. Fred plays the character hard and fast and his understanding of the game rules (which everyone else sorely lacks) enables him to make some pretty crafty tactical decisions. The character is a halfling thief who, in his defining moment did a triple flip and chopped the head off a demonic overlord. He is currently battling a debilitating venereal disease.
You can follow the adventures at Jimmerish FM download past episodes on itunes and check out the wiki.


This is a quick concept sketch for the comics project I'm currently working on "Home Time". Some of you may remember the first issue was serialised online last year.
The first chapter was a monochrome pencil work, the following chapters will be in glorious techniwatercolour and coloured pencil! Arts materials favoured by primary school students and retirees. With these as my weapons I'll carve a mean slice of comic work from the something something clever analogy.

Bonnie Davies is a common point of reference for most young people in the arts in Perth. Over the years she has organised more opportunities for my friends and me than I can possibly ever repay her for. In the past she has worked tirelessly for the AWESOME International Arts Festival for Bright Young Things and the Hyper Festival. Now she runs the Chuckles Comedy Nights and is a professional comedian.
I recently completed some illustrations that will be featured on her website in the near future.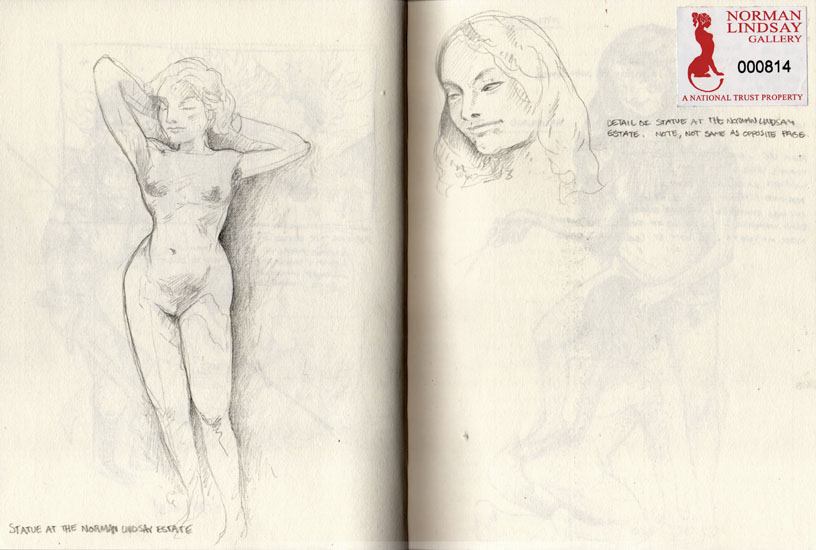 Earlier this year I was lucky enough to get a chance to visit the Norman Lindsay Gallery and Museum in NSW. I'm a huge fan of his work and was amazed at seeing his studio and home. I did the above sketches from two of the sculptures he had made in his gardens. He seemed determined to carve his estate in to the shape of his visions, a sort of Grecian, mythical playground of sorts.
Norman Lindsay was one of those fantastic artists who had a recognisable style that he explored in both flat and multi dimensional work. I'm always impressed when when I find artists who can do this. I've explored it to some degree with making maquettes for figures I'm painting, but I've never made any as finished pieces on to themselves.
I was a little underwhelmed with the work that was one display however. This was probably due to the traveling exhibition that visited theArt Gallery of Western Australia a few years ago. It featured all of his etchings which was pretty overwhelming.
One stand out at the Museum was a comic he had done depicting a cat stalking a rooster, pouncing on it and then being fiercely kicked off. He managed to pull so much character and emotion out of the animals, probably more than I've ever seen any other artist do. This was without turning them in to Disney caricatures of animals either.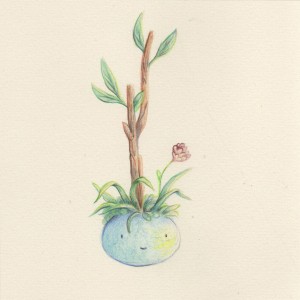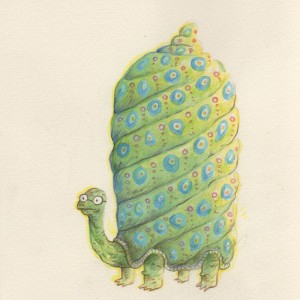 I've cut a whole stack of watercolour paper in to squares to use as warm up sheets when I sit down at the desk. If I get one crap drawing out of the way first thing, then that's one less crap drawing I will do that day.
While this is in part, another in my seemingly endless series of side projects, it will work it's way in to other things and build up to something… I hope.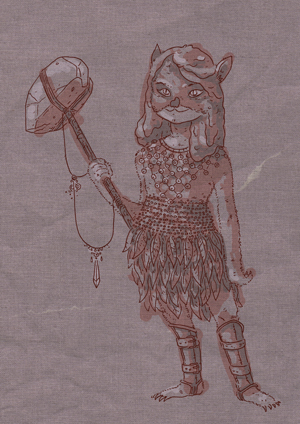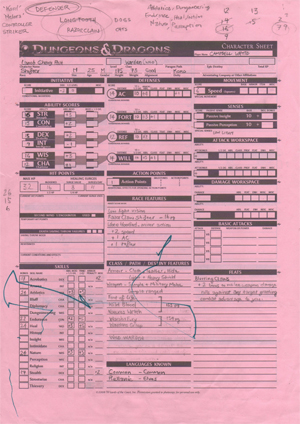 When we get the chance, some of my friends and I play Dungeons and Dragons. Tonight we have the chance. We're pretty loosey goosey with the rules and it's all a bit ridiculous. My character is kind of like a cat person who is a protector of the forests, or something. Anyway, he's awesome and cat like and spent the entire last adventure drugged, chained in a basement and used for food orgies.
Up until now I've been the dungeon master, so I haven't had a chance to actually try out the character, so tonight'll be a bit of a learning experience for me.
You can listen in at Jimmerish FM download past episodes on itunes and check out the wiki.