Posts Tagged 'australia'
recent exhibitions

recent projects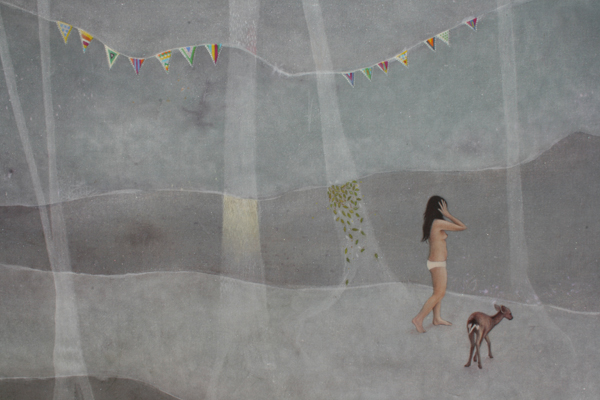 The wonderful talented Elizabeth Marruffo will be showing works in a group show titled Femme that's opening at Studio 281 this saturday at 6pm.
She'll be exhibiting alongside a range of other female artists including Friends of Leon regulars Jodee Knowles and Alex Lekias as well as Carmen Cilliers, Kiri Booth, Annette Allman, Deborah Zibah and Raquel Cavallaro. The above work, "death of the party" will be available for sale, as a well as a few other new pieces that she has been developing.
The exhibition opens tonight from 6pm at 281 Guildford Road, Maylands.
You can see a preview of the works on show here.


Last week we had the super talented Tanya Schultz and Jennifer Catalano talk about their recent works at free range gallery.
Both artists work with found objects from the environment but in very different ways. Jennifer works with dirt from the local wetlands and wilderness to create pastes which she paints with, while Tanya works with consumer items like plastics toys, candy wrappers and glitter. The contrast between the two practices was great, Jennifer discussed the difficulty in finding the kind of "natural" material that she worked with, she really had to hunt for untouched lands and regions, where as Tanya felt overwhelmed by the abundance of plastics and brightly coloured goodsl. My partner Liz did a fantastic job pairing these two artists up.
This Wednesday Adrian Baldsing and Dom Trimboli will be discussing their practices which are both heavily influenced by construction and architecture.

The New Perth exhibition is finished and this week I am taking down all the works, patching up the gallery and painting over the mural.
I'm pleased with how the show turned out, although, like all exhibitions the things that I wasn't able to achieve are the ones that stick in my mind. These things are usually best not to talk about as people viewing the work most likely would never guess what they are.
This body of work is one that I'm keen to continue with, I finally feel that I have struck upon a methodology that combines all the ideas that persist with me. Many of my previous exhibitions, while fine in their own right, were a little all over the place in terms of visual cohesion. I'm looking forward to developing the narrative of New Perth, the myths and stories as well as branching out in to dimensional work. Creating costumes and relics from the struggle, false historical documents of what was.
During the run of the exhibition I was surprised at the amount of media response I received. Ric Spencers in depth review was a real highlight as it's very difficult to get meaningful constructive criticism outside of university. He's pretty bang on about a lot of my interests and influences as well, even referencing Leon Golub whose work at the Art Gallery of Western Australia was burnt in to my mind a long time ago. Also of note was my mention on Phantasmaphile, one of mine and Liz' favorite blogs. To be highlighted alongside some of the most amazing contemporary figurative artists is a real treat. Finally my interview with Voice journalist David Bell was great as a chance to provide more context for the work.
I'd like to thank my wonderful partner Elizabeth Marruffo for her constant support of my practice and this project. None of it would be possible without her.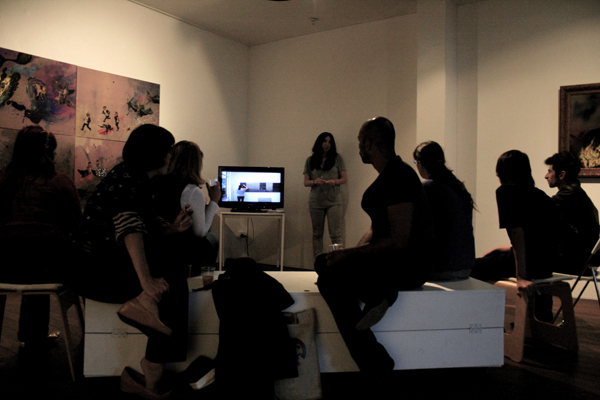 All this month at free range we are holding a series of artist talks by members of the organisation. Last night, my partner Elizabeth Marruffo and myself talked about our most recent exhibitions and what influences our figurative creative practices.
It was a fantastic opportunity to discuss our work and get critical feedback from an engaged and educated community. One of the biggest things that I miss about university is the critical analysis of your work that was always at hand, of people being able to interpret your images, your technique and methodology. These talks are perhaps an attempt to restore what is missing.
This month of talks is running as an in house trial, to see logistically what is involved in running them and so forth. In the future, we're thinking of opening them up so that other artists can give regular presentations with the broader arts community able to attend.
I'm not really aware of any other regular arts events of this type in Perth. Can anyone fill in the gaps?
Where do you go for dialogue and community?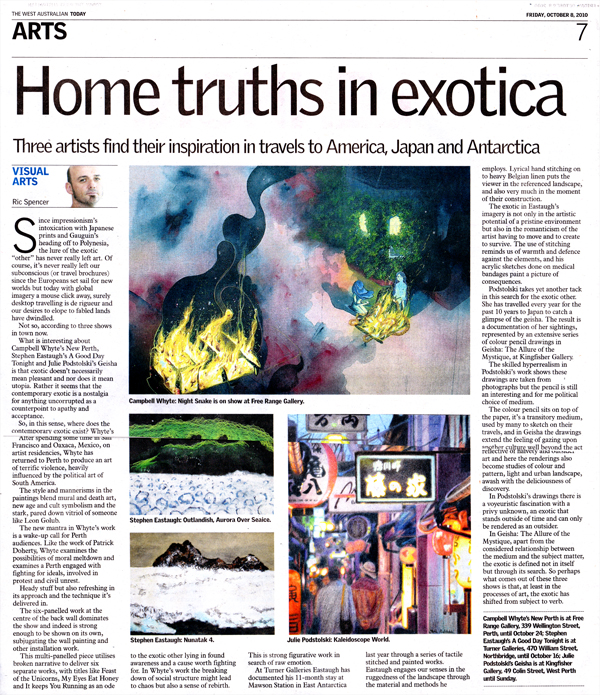 Ric Spencer reviewed my latest exhibition, New Perth, in the October 8 edition of the West Australian paper. However, the paper was a limited edition run and was only available for sale on one day, so now you've all missed out on buying it, and reading it.
Fear not however! I have scanned the article and even typed it out for your reading pleasure.
"Since impressionism's intoxication with Japanese prints and Gaugauin's heading off to Polynesia, the pure of the exotic "other" has never really left art. Of course, it's never really left our subconscious (or travel brochures) since the Europeans set sail for new worlds but today with global imagery a mouse click away, surely desktop travelling is de rigueur and our desires to elope to fables lands have dwindled.
Not so, according to three shows in town now.
What is interesting about Campbell Whyte's New Perth, Stephen Eastaugh's A good Day Tonight and Julie Podstolski's Geisha is that exotic doesn't necessarily mean pleasant and nor does it mean utopia. Rather is seems that the contemporary exotic is a nostalgia for anything uncorrupted as a counterpoint to apathy and acceptance.
So, in this sense, where does the contemporary exotic exist? Whyte's great little show at Free Range is a good place to start looking.
After spending some time in San Fracisco and Oaxaca, Mexico, on artist residencies, Whyte has returned to Perth to produce an art of terrific violence, heavily influenced by the political art of South America.
The style and mannerisms in the paintings blend mural and death art, new age and cult symbolism and the stark, pared down vitriol of someone like Leon Golub.
The new mantra in Whyte's work is a wake-up call for Perth audiences. Like the work of Patrick Doherty, Whyte examines the possibilities of moral meltdown and examines a Perth engaged with fighting for ideals, involved in protest and civil unrest.
Heady stuff but also refreshing in its approach and the technique it's delivered in.
The six-panelled work at the centre of the back wall dominates the show and indeed is strong enough to be shown on its own, subjugating the wall painting and other installation work.
This multi-panelled piece utilises broken narrative to deliver six separate works, with titles like Feast of the Unicorns, My Eyes Eat Honey and It Keeps You Running as an ode to the exotic other lying in found aweareness and a cause worth fighting for. In Whyte's work the breaking down of social structure might lead to chaos but also a sense of rebirth.
This is strong figurative work in search of raw emotion."



I have done the first wave of uploads to the new perth gallery. You can see the finished installation, paintings and a few close ups of works here.
I'll have more detailed shots up on wednesday when I get back to free range to take more shots.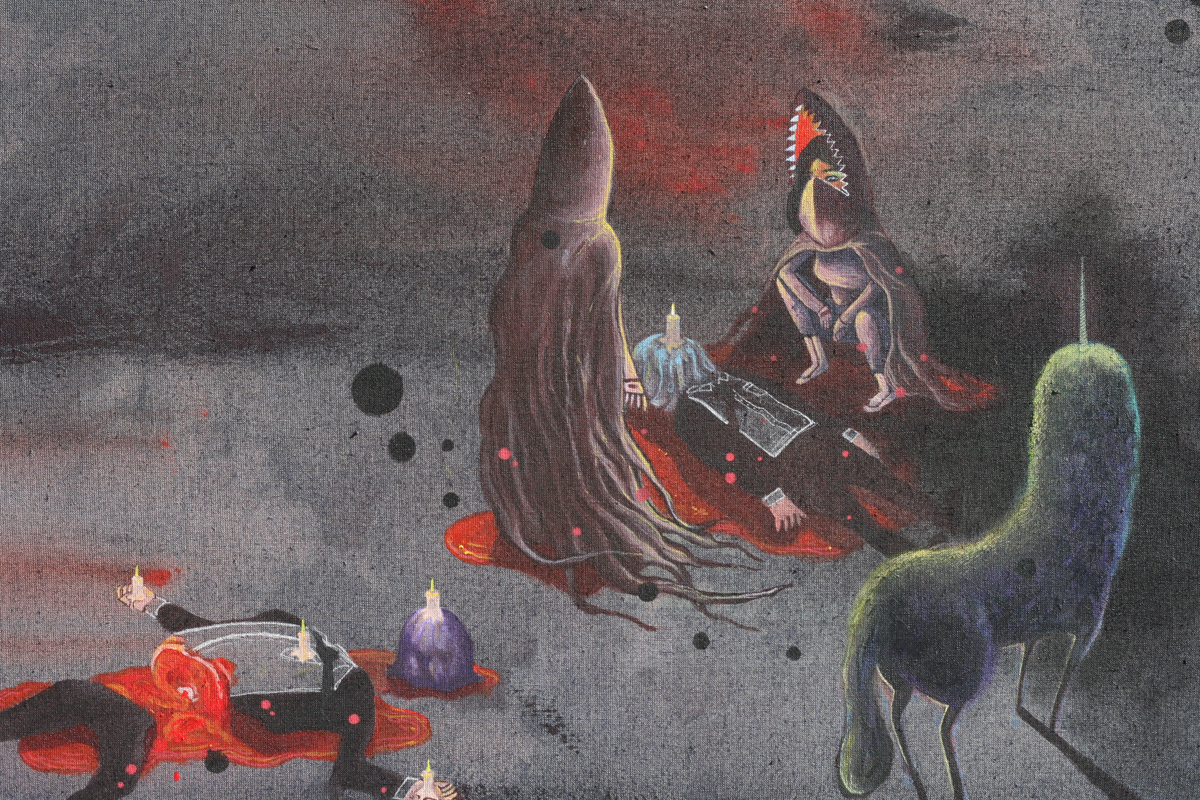 My exhibition, new perth, opened on the 25th of September as planned. Unfortunately, as unplanned, I was struck down by the mighty hand of pneumonia and was bed ridden, unable to attend. I just want to thank all of those who attended for their support, my family for all their assistance and most of all my incredible partner Elizabeth Marruffo. She has put up with so much during the creation of the show and then went beyond anything I could have hoped for at the last minute to pull it all together in my sickness.
I will put up images of all the works next week, as well as more sketch book images.
The exhibition will be open until the 24th of October, please check the free range website if you are planning on coming down to confirm our opening hours.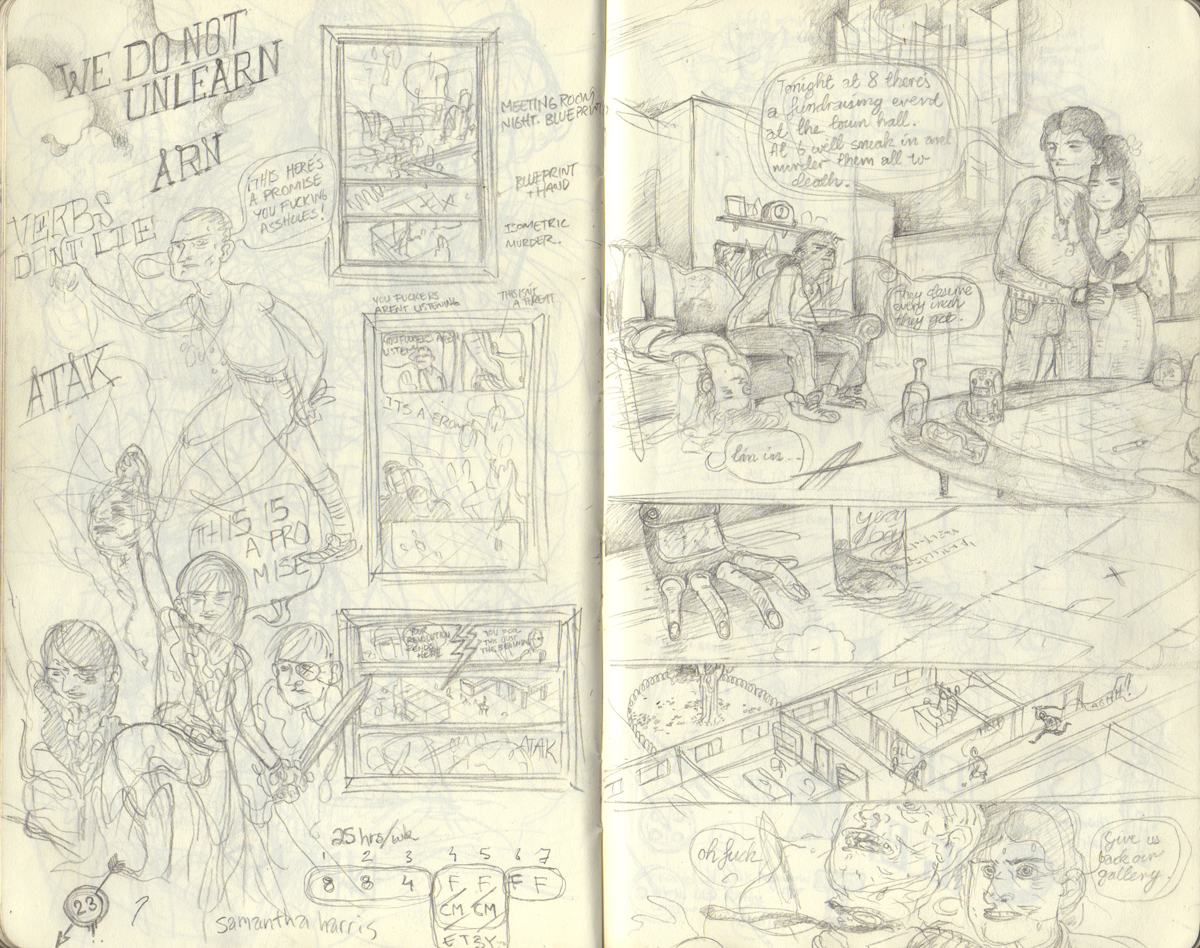 Here is an early sample from one of my sketch books of new perth material.
Originally the paintings were going to be more comicy, with panels and dialogue. The final show doesn't follow through with this initial idea, but it might be something to explore in further exhibitions.
I'd love for this project to expand in future shows, creating a strong narrative, defining events and "historical" figures. Including other artist would be something I'd be keen to do as well, once the idea is established well enough. So that more stories can be told from this fictional time line.