Archive for the 'process' Category
recent exhibitions

recent projects
For the upcoming Fangamer X Attractmode exhibition.


My workspace in Florence while I finish the illustrations for Jason Tagmire's Storyteller Cards.

These photos are from a comics workshop I ran at an English language school. It's an adaptation of my "steal an idea" activity which is all about generating new ideas through stealing other peoples ideas.
This group was totally brilliant to work with because they were from all over the world, and their ideas and influences were super diverse. We worked on the initial influences together, and the bottom photo is a completely rubbish comic that I drew to show how those individual components can be bought together.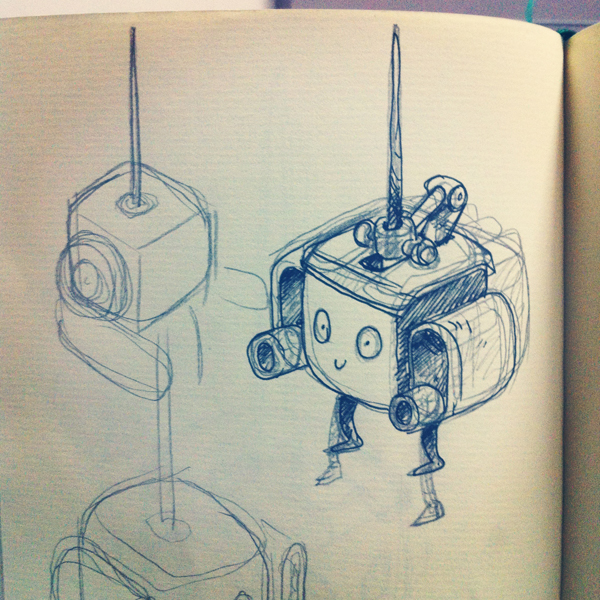 This is an early sketch for a Mega Man tribute exhibition I'm going to be a part of.
I've chosen Needle Man, from Mega Man 3, probably my favorite in the series. It introduced the slide move, Rush and the mysterious Proto man.
I played around with a couple of different designs for Needle Man, and eventually ended up moving away from the traditional 3-pronged head, for a single point. It wound up referencing a sewing machine needle, more than an industrial mining one.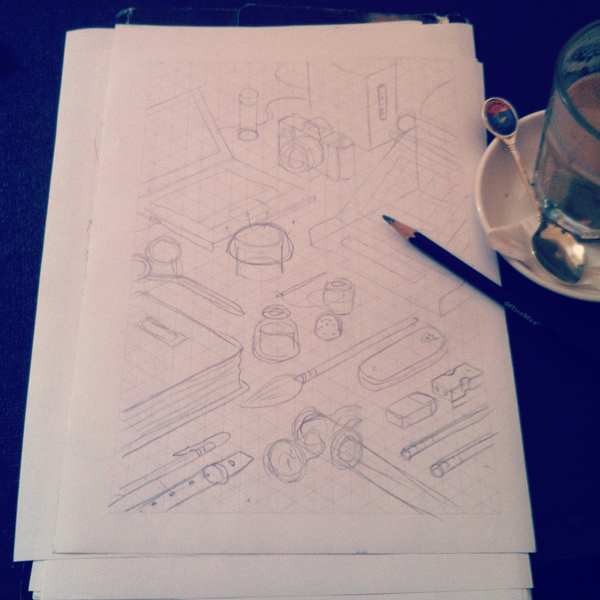 For all the isometric illustrations I do, I don't actually use graphed paper all that much.
This is really silly, as it makes things a hell of a lot easier. The sketch is from a picture book that I'm currently doing a layout for.
I've been working on Home Time a lot recently, but it's a ridiculously all consuming. A couple of publishers have expressed interest in it, but they want to read the first couple of chapters before they can commit to it. While this is totally fair enough, it's also a metric ton of work. That's about 100 pages of fully illustrated comics material.
However, I can write short 16 page picture books, sketch up layouts and send them off for consideration in the mean time.
I kind of feel like I just need to get started, to get going, to get moving somewhere. Everything is sort of floating in limbo right now.

I recently ran a series of comics making workshops at the Ellenbrook library in conjunction with Awesome Arts. We investigated how comics function, what the core components of comics are, different comics styles from around the world, ideas generating and then finally making our own mini comic.
In the above photos, one of the workshop attendees is working from her "inspiration book", which in this case is Nicki Greenberg's adaptation of Hamlet. (a personal favorite of mine) We also used Nicki's illustration style as a reference point when doing the group activity "Everything is a Remix", which you can see on the white board.
If any libraries our school out there are interested in having me come in, shoot me an email.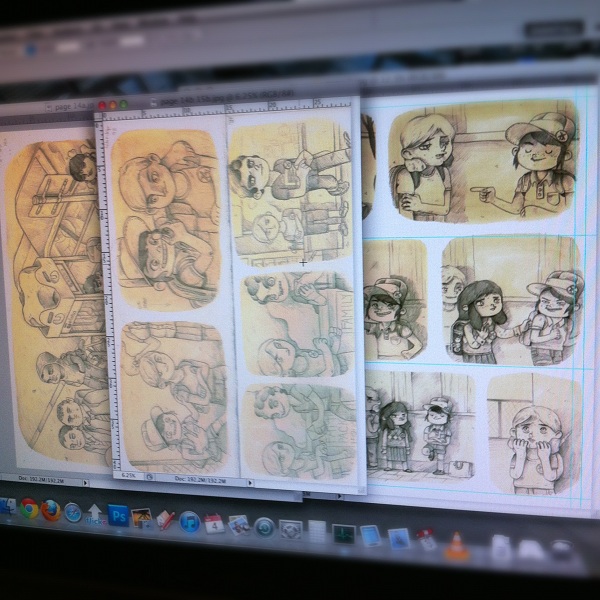 So I have finished all the illustrations of the first chapter of Home Time, have scanned them, cleaned them up and am now in the process of lettering them.
The original illustrations were done on A3 size watercolour paper. As the design of the book is square, each page is made up of one A3 sheet, and then one A3 sheet that has been cut in half long ways. This of course, means they need to be stitched back together at some point.
This digital component was actually a lot quicker than I anticipated. I was worried that it would drag on and on and on and on but for some reason, it was all done over two evenings.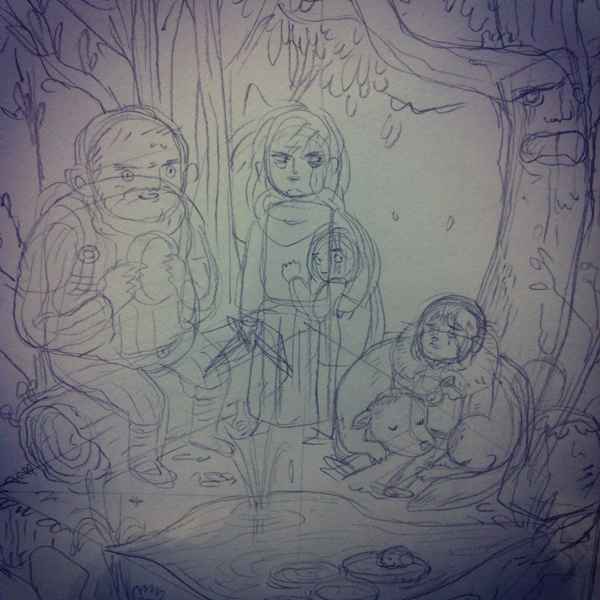 Here's the underdrawing of a Game of Thrones illustration I'm doing.
It's for a themed group show that's coming up soon at Bottleneck Gallery in NY to raise funds for the Michael J Fox Foundation for Parkinsons Research.